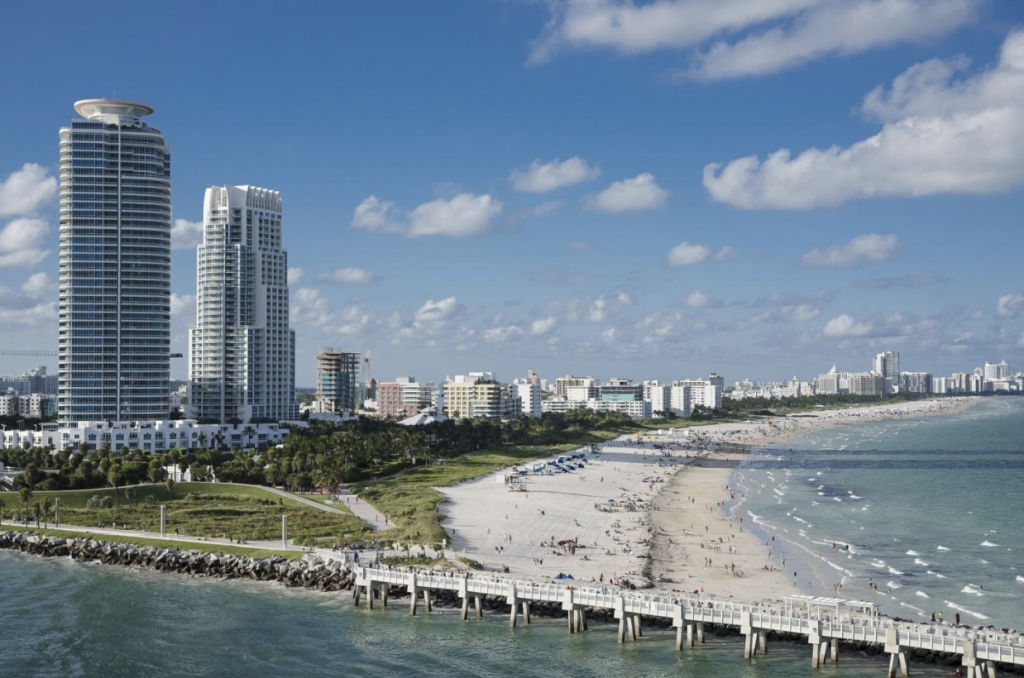 Picture this. You're soaking up the sun on a golden beach, salsa rhythms fill the air, and vibrant cultures blend around you. Where are you? You're in Miami, a city like no other.
If you're hunting for the perfect vacation destination, Miami is your answer. From sun-kissed beaches to sizzling nightlife, Miami offers an array of experiences. It even caters to all tastes and preferences.
Let's delve into seven irresistible reasons why you should visit Miami as your next travel destination this year. Pack your bags, because Miami's magic awaits! Read on!
The Unbeatable Charm of Miami Beaches
Imagine this. You wake up early in the morning, step out, and there it is – a golden sunrise painting the horizon. Miami's beaches are not just stretches of sand. They are like beautifully woven tapestries where every grain tells a story of fun and relaxation.
Think of South Beach with its vivacious energy, where surfers ride the waves and sunbathers bask in the warmth of the sun. Or consider the serene landscape of Crandon Park Beach in your vacation planning. This is where families come together for picnics and children build sandcastles at the water's edge.
When the night falls, these same sands become a playground for heart-thumping parties and soothing moonlit walks. There's always something for everyone on Miami's beaches, making them a must-visit in your trip planning.
A Blend of Cultures in the Magic City
Every city has a heartbeat. And in Miami, it thumps to the rhythm of salsa and merengue, resonating with the tales of those who have come from different corners of the world. The city's rich cultural fabric is woven from threads of various vibrant communities.
Take a walk through the streets of Little Havana and soak in the spirit of Cuba. It is right from the aroma of Cuban coffee to the sound of domino pieces clicking together.
You can also visit Little Haiti, where colorful murals narrate stories of resilience and culture. Each neighborhood, each street, and each corner of Miami contributes to this multicultural canvas. It creates a masterpiece that you can't help but admire.
It's a World Tour on a Plate
If you're a food enthusiast, you're in for a treat. Miami's gastronomy is like a world tour on a plate. The city's culinary landscape is dotted with food from every culture present here.
Start your day with a hearty all-American breakfast. Then, enjoy a mid-day break with a spicy Mexican taco and finish off with a sumptuous Italian dinner.
Experience the freshness of Floridian seafood, the zest of Cuban sandwiches, and the unique taste of Haitian and Caribbean flavors. With food trucks, mom-and-pop shops, and gourmet restaurants lining up the streets, you'll find that every meal in Miami is an exploration of flavors and an adventure in itself.
Nightlife is a Celebration that Never Ends
When the sun takes a bow and night curtains the sky, Miami starts a new rhythm. The city comes alive with lights that twinkle like stars fallen on earth, and music that gets your foot tapping. Visit famous clubs like LIV or Mango's Tropical Cafe, where you can sway to beats of music that range from Latin to hip hop.
But it's not just about the clubs. Countless lounges, bars, and theaters offer a plethora of nighttime activities. Whether you want to indulge in a sophisticated wine tasting, enjoy a comedy show, or simply savor a cocktail by the moonlit beach, Miami's nightlife promises memorable moments and enchanting experiences.
History and Architecture is a Tale of Time
Take a walk through Miami, Florida's streets and you'll find yourself on a journey through time. The city's architectural landscape is a delightful mix of past, present, and future. You can marvel at the pastel-hued Art Deco buildings that take you back to the '30s. Or, you can admire the contemporary high-rises that reflect modern sophistication.
There's a world of history nestled within this city. The Vizcaya Museum and Gardens, with its grandeur, echoes the Italian Renaissance era. Meanwhile, the Ancient Spanish Monastery offers a glimpse into medieval Spanish architecture. Through its buildings and landmarks, Miami narrates a story of its transformation, from a sleepy coastal town to a bustling metropolis.
There's Always an Event Happening
No matter when you plan your visit, Miami has a calendar chock-full of events to keep you entertained. If you're a fan of cinema, time your visit to the Miami Film Festival. Art enthusiasts should not miss the internationally acclaimed Art Basel. To get a real feel of Miami's local culture, join the fun and frolic of the Calle Ocho Festival.
To find events in this area, consider checking an online platform that can guide you through Miami's vibrant event scene. Whether it's sports, music, arts, or culture, Miami guarantees an event to suit your taste.
Proximity to the Tropical Florida Keys
The beauty of Miami is not just confined to the city limits. It's also your gateway to the tropical paradise of the Florida Keys. You can head out on a scenic drive down the Overseas Highway, stopping by the picturesque islands on your way.
Dive into the coral reefs of Key Largo, enjoy the serenity of Islamorada, or join the sunset celebration in Key West. The opportunities for exploration and enjoyment in Miami are endless.
Visit Miami and Create Unforgettable Memories
So, there you have it! With its dazzling beaches, melting pot of cultures, diverse cuisine, lively nightlife, rich history, action-packed events calendar, and proximity to the Florida Keys, Miami is a vacationer's dream.
This sunny city is more than just a destination. It's an unforgettable experience waiting to be discovered. Don't just dream about the perfect vacation, make it happen. Visit Miami this year and create memories that will last a lifetime.
Ready to embark on your Miami adventure? Miami is calling, and it's time to answer! If you would like to learn more tips, visit our page today!