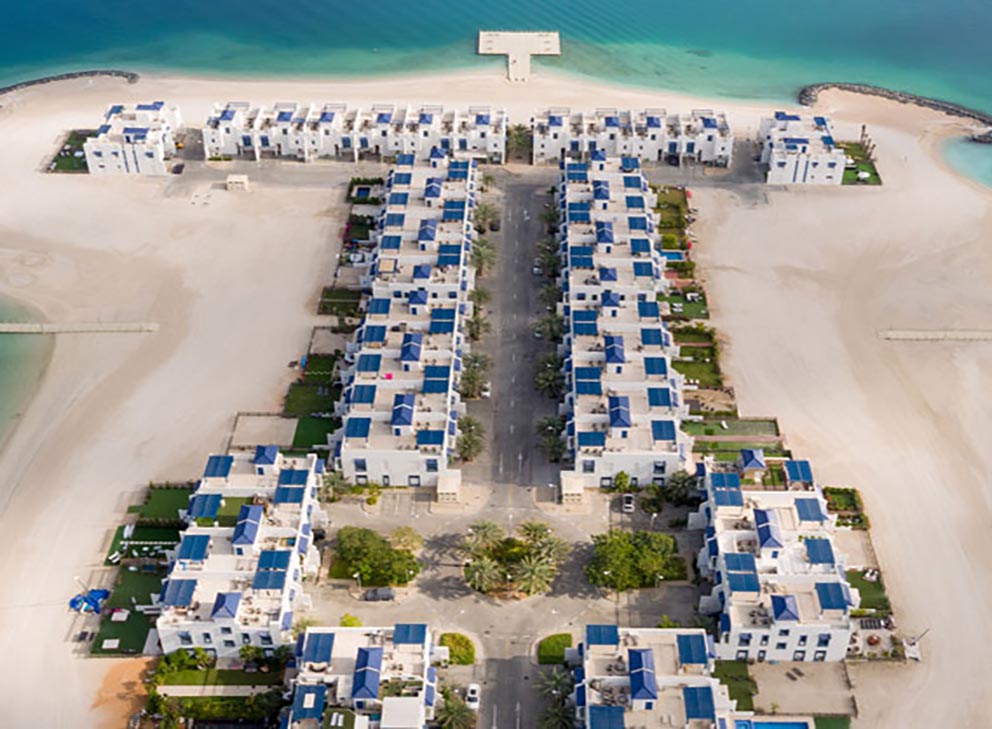 Palma Residences is a villa society in Palm Jumeirah. It is one of the most highly coveted locations in Dubai for a good reason. Situated on the beachfront and offering stunning views of the Arabian Gulf, it's easy to see why this area is so popular with investors and homeowners alike. With 104 luxurious beachfront houses available, Palma Residences offers something for everyone. Plus, with easy access to world-class amenities and five-star resorts, you'll never be far from what you need.
Community Overview
Looking for a luxurious waterfront villa with panoramic sea views? Then think about Palma Residences in the Palm Jumeirah area of Dubai. This sub-community offers various options, from one-bedroom apartments to spacious six-bedroom villas. All the properties are not complicated to navigate, with direct access to the primary palm trunk and linked to the mainland. 
Whether you're an individual professional or a family, you'll find living here ideal. 104 Mediterranean houses boast world-class amenities like constant security, a private beach, and exclusive waterfront living. No wonder Palm Jumeirah is one of Dubai's best areas for sea-view villas. If you're looking for a luxurious and family-friendly place to call home, look no further than modern Palma Residences villas for sale in Palm Jumeirah.
Properties In PALMA Residences
Palma Residence in Dubai offers four and 5-bed units perfect for families who want to enjoy high-end living. These rental villas span from 3,656 square feet to 4,600 square feet. They come with all the amenities and features that families need to feel comfortable and relaxed.
From spacious bedrooms to fully-equipped kitchens, these units have everything families need to enjoy their time in Dubai. Additionally, the community is situated in a prime location that offers easy access to the city's best attractions. Whether you're looking for a place to raise your family or a luxurious vacation home, Palma Residence is the perfect option.
Selling tendency in PALMA Residences
Are you looking for a luxurious and spacious home in one of the most prestigious areas of Dubai? If so, then you need to check out the Palma Residences. Located on the world-famous Palm Jumeirah, the Palma Residences offer stunning sea views, high-end finishes, and a wide range of amenities. 
With prices starting at just AED 5.7M, it's clear that these homes are an excellent value. So whether you're looking for a 4-bedroom villa or a 5-bedroom townhouse, the Palma Residences have something for everyone. So don't wait any longer; see what all the fuss is about today!
ROI in PALMA Residences
Nestled in the heart of Ayala Alabang, Palma Residences offers the perfect blend of peace and privacy. With only 4-bed and 5-bed houses available, this exclusive enclave is ideal for those looking for a more intimate living space. And for investors, these units are expected to generate healthy returns. 4-bed houses are projected to yield a 5.88% ROI, while 5-bed units are expected to bring in a 4.36% return. With its prime location and luxurious amenities, Palma Residences is ideal for those looking for a safe and profitable investment. 
PARKING AND TRANSPORTATION IN PALMA RESIDENCES
With Palma Residence Dubai, you'll never have to worry about where or when your next parking space is coming up. You get a minimum of 2 dedicated rooms in every building, which means there's always one ready for whenever necessary!
Public Transport Around PALMA Residences
When looking for a way to get from place to place, taxis and online cabs are the quickest options. If your needs call out with more frequency than those options, though (like if it's late at night), then consider taking public transport around Palma Residences: there is always a bus service available near Knowledge Village that will take around 5 minutes; make sure not forget about catching either Royal Mirage Hotel 1 & 2 as they offer 7 minute rides too! And finally, if all else fails, but you still need quick access to commercial districts – don't fret because we've got some good news…Crescent Road has an exclusive monorail station right on its border, which connects seamlessly.
Conveniences, Academies, and Healthcare
Markets close to PALMA Residences
In a few minutes, you'll be able to buy all your groceries at Quick Bay supermarket just below the road. This is an easy task considering many corner shops and supermarkets within walking distance from Palma Residences!
The nearest one is West Zone market which offers everything from produce sections to dry goods departments; in addition, their cafe serves international cuisine, among other things like bread & sandwiches, plus an ambiance that makes it worth stopping by.
Mosques close to PALMA Residences
The only mosque near Palma Residences is in the Al Mirziban area, and it can be reached in 7 min by car.
Additional Locations Of Worship Close to PALMA Residences
The closest church to Palm Jumeirah for those who follow Jesus Christ also lives close by; righteousness resides at your doorstep if you're interested in what all He has done for us during our time here on earth so far…the good news is there are plenty more churches just waiting outside doors ready open up their arms welcoming.
Schools Close to PALMA Residences
The area is home to many schools, universities, and colleges that provide childcare and preschool education. Some of these include Asya's nursery school, Blossom Palm Jumeirah, Redwood Montessori. For those who are looking for a regular high school experience, there may be options in neighbouring areas such as the following schools., Regent International School, Dubai Kings School. 
GEMS Wellington International School
GEMS Wellington International School has been on the top ratings in Dubai. It offers an educational experience that follows England's National Curriculum from beginner level to Grade 11 and gives Careers Diploma Programmes for grades 12 and 13, with Palma Residence just minutes away!
With so many schools nearby, getting your education in the fields you're interested in is easy. For example, some universities offer courses on how to be a professional tennis player or air hostess- just one of many options available at Knowledge Park!
If we had our way with all these educational opportunities, though? We'd likely be more than qualified for anything because who doesn't love learning new things?!
Conclusion
If you're looking for a luxurious and exclusive villa community in Palm Jumeirah, look no further than Palma Residences. This private gated community offers residents access to all the amenities they need and stunning views of the Dubai skyline. With only 188 villas, Palma Residences is an intimate and prestigious community perfect for those who want to live in luxury. Keep an eye on our blog for more updates on this development; we'll let you know when construction is complete, and units are available for purchase!