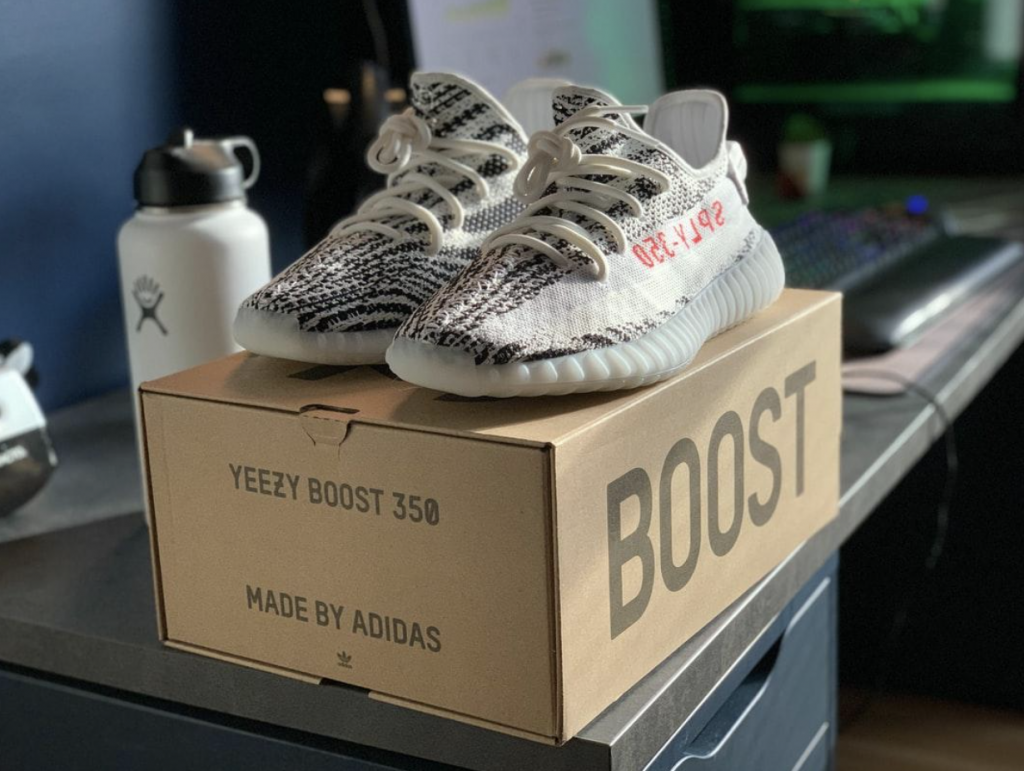 Did you know that the legendary Kanye west created the Yeezy brand in 2009? And have you ever wondered how many types of Yeezys there are? Or which ones are the most popular?
Well, look no further. With a range of designs and colorways, it can be overwhelming to know where to start if you're interested in getting your hands on a pair. Fortunately, we've gathered the information you need to help you better understand what's available and make an informed decision when it comes to choosing your next pair of Yeezys.
In this guide, we'll break down the different types of Yeezys available, from the classic 350 and Yeezy tennis shoes to the more recent Quantum. Whether you're a sneakerhead or simply a fan of the Yeezy aesthetic, this guide will help you navigate the world of Yeezys and make an informed purchase.
So let's jump right in and explore!
Yeezy Boost 350 V2
The Yeezy Boost 350 is undoubtedly the most popular sneaker among Yeezy shoes. The low-top design features a Primeknit upper, with a comfortable and supportive Boost sole. Originally released in 2015, the Yeezy Boost 350 has been released in a range of colorways, including "Pirate Black," "Turtle Dove," and "Zebra."
In addition to its style and prestige, the Yeezy Boost 350 V2 is a practical choice for anyone who values both fashion and functionality. Its durable construction and comfortable fit make it suitable for a range of activities, from running errands to hitting the gym.
Yeezy Boost 700 Series
The Yeezy Boost 350 V2 is an updated version of the original 350, featuring a Primeknit upper and a translucent stripe on the side. The V2 also boasts a more streamlined silhouette than the original, with a narrower toe box and a slightly higher heel.
But why do you need a pair of Yeezy Boost 700s? Well, beyond their stylish design and exclusivity, these shoes are also incredibly versatile. They can be dressed up or down, making them suitable for a variety of occasions. They're perfect for adding a touch of streetwear to any outfit, and their comfortable design makes them suitable for extended wear.
Yeezy Boost 700 V2
This shoe collection is the perfect combination of style and comfort. Thus, making it a must-have for sneaker enthusiasts and fashion-forward individuals alike. The Yeezy Boost 700 V2 features a unique design that sets it apart from other sneakers on the market.
The upper is constructed of premium materials, including suede and mesh, which not only look great but also provide durability and breathability. The midsole is made of Boost technology, which provides unparalleled cushioning and support.
The shoe is available in a range of colorways, each with its own unique look and feel. From bold and bright to more muted and understated, there is a Yeezy Boost 700 V2 to suit any style. The shoe's chunky silhouette is also very on-trend, making it a great choice for those who want to stay ahead of the fashion curve.
Yeezy Boost 380
The Yeezy Boost 380 has a unique design, with a Primeknit upper and a Boost sole. The upper is made with breathable and durable materials that provide a comfortable fit and excellent support for your feet. The Boost technology in the sole provides a responsive and cushioned ride, making these Yeezy sneakers ideal for everyday wear or intense workouts.
One of the standout features of the Yeezy Boost 380 series is the range of colorways available. From neutral and earthy tones to bold and vibrant hues, there is a colorway to suit every taste and style. Additionally, the sneakers come in both reflective and non-reflective versions, providing an added level of versatility and uniqueness.
Beyond their aesthetic appeal, the Yeezy Boost 380 series is a must-have for sneaker enthusiasts and fashion-forward individuals because of their rarity and exclusivity.
Yeezy 500 Series
What sets the Yeezy 500 series apart from other sneakers is its construction. The shoes are made from high-quality materials such as suede, leather, and mesh, which provide excellent comfort and durability. The chunky sole of the shoes is also a standout feature, providing ample cushioning for the wearer's feet.
Another reason why you need the Yeezy 500 series is its versatility. The shoes can be dressed up or down, making them suitable for various occasions. Whether you're heading to the gym or meeting friends for a night out, the Yeezy 500 series will have you covered.
Adidas Yeezy 350 Special
The Adidas Yeezy 350 Special is a limited edition sneaker designed by Kanye West in collaboration with Adidas. The shoe features a unique design and construction, with a Primeknit upper and a Boost sole for comfort and performance. The shoe also features the iconic Adidas three-stripe logo and a Yeezy logo on the heel.
The limited edition nature of the Special version makes it even more desirable. However, like all limited edition sneakers, the availability and pricing can vary greatly.
You can buy this sneaker and other Yeezy sportwear from online stores like kickscrew.com. 
Yeezy Quantum
It features a unique blend of futuristic and sporty design elements, with a high-top silhouette, reflective accents, and a distinctively chunky sole. The upper is made of a mix of breathable knit materials, providing both comfort and flexibility.
There are several reasons why one might "need" the Yeezy Quantum. Firstly, it's a highly stylish and trendy shoe that is sure to turn heads and make a statement. It's become something of a status symbol among sneaker enthusiasts, and owning a pair can enhance one's overall fashion sense and street cred.
Additionally, the Yeezy Quantum is highly functional, with a comfortable and supportive design that makes it suitable for a wide range of physical activities, from running to basketball. The reflective accents and chunky soles also provide additional safety features for low-light conditions.
Looking to Explore the Different Types of Yeezys?
If you're looking for the perfect pair of shoes that offer a blend of style, comfort, and unique design, Yeezys are a great option. Yeezys come in a wide variety of styles and colors, so you can be sure to find a pair that best suits you.
This guide offers a comprehensive overview of the different styles and types of Yeezys available in the Yeezy line. Armed with this information, you can confidently choose the right pair of Yeezys for you.
Subscribe to our newsletter to find the latest posts in fashion, entertainment, lifestyle, and more.