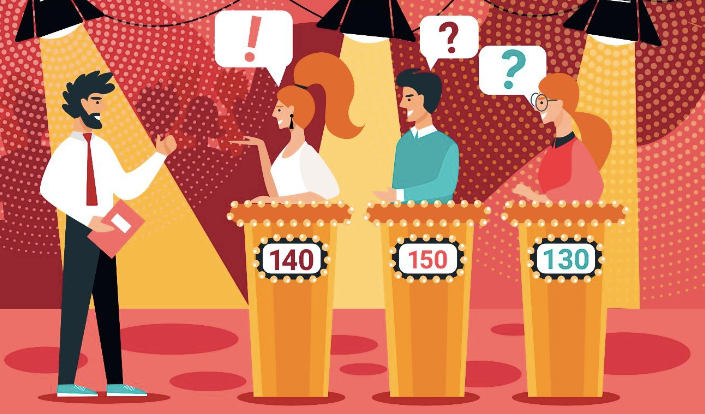 Over 80% of online casino players enjoy the live casino games. And, who hasn't dreamt of becoming the next gameshow star? Arguably, two of the most popular gameshows of all time are Deal or No Deal and Who Wants to be a Millionaire. With the latter airing on British television in September 1998, and the former taking to our screens shortly after in October 2005, the games quickly became a hit.
So, to live out all your gaming fantasies, these gameshow-inspired live casino games are the way to go. But the question remains: which is best? Deal or No Deal: The Big Draw, or Who Wants to be a Millionaire Live Roulette? 
Read on to find out! 
Deal or No Deal: The Big Draw
If you're a fan of this classic gameshow, and enjoy a spot of Bingo, then Deal or No Deal: The Big Draw is the game for you. The aim of the game is to win a cash prize by either taking the Banker's offer for the briefcase holding an unknown sum of money or by choosing to take the prize hidden in the briefcase you were assigned at the start of the game round. 
To take part in this live casino game, you must purchase a ticket for the Big Draw at whatever stake you wish. Then, you'll enter the game and be greeted by a live host, streamed directly to your device from a specialist studio. The host will draw random numbered balls from the Bingo machine which will correspond with the numbered briefcases. 
You'll be allocated 16 briefcases at the start of the game, one of these is kept to the side and remains yours. The prizes are only revealed when they've been matched with the Bingo balls, and there are side bets, multipliers and the potential to buy extra balls, all giving you the potential to enhance your gameplay further. 
So, do you think you'll be saying Deal or No Deal to the Banker's offer?
Who Wants to be a Millionaire Live Roulette
Asking Who Wants to be a Millionaire? might be a silly question, because let's face it, we all do… but if you love Roulette, and fancy taking a chance in the hopes of bagging up to 2000x your bet, then this gameshow-themed live dealer game will be right up your alley! 
Played on a European Roulette wheel, only inside bets can win you a multiplier or entry into one of the Who Wants to be a Millionaire bonus rounds. Between one and 10 of the numbers on the Roulette wheel will be randomly selected as Millionaire Numbers, which can activate one of three outcomes if landed on: 
A Millionaire Logo – this will trigger an eight or 10 question bonus round where multiplied payouts are up for grabs. 

An icon showing a 100x multiplier – paying out according to your bet type.

A question mark symbol – will provide you with a multiplier of 50x or 100x your bet, as well as the opportunity to play a Millionaire Round.
But that's not all, there are other features of the iconic gameshow that could help you enhance your gameplay. This includes a Lifeline of 50:50, Ask the Audience and Ask the Host. 
Which is best?
With all this, and more, wrapped up in a bundle of live casino joy, it's no wonder these classic gameshow titles continue to be reinvented so they can be enjoyed by many, but remain extremely difficult to compare. For an authentic experience, in real-time, and to be in for a shot at winning real-cash, both games offer great potential. 
Deciding which is best really does decide on your style of gameplay though, and whether you prefer Bingo-style games or a new take on Roulette. Whichever you choose, both are games of chance, so you never know what could happen when the live dealer takes to the stage. 
So, which game will you star in?