Find ways to face e-commerce packaging challenges and deal with them. You can easily avoid major packaging challenges with materials and customization.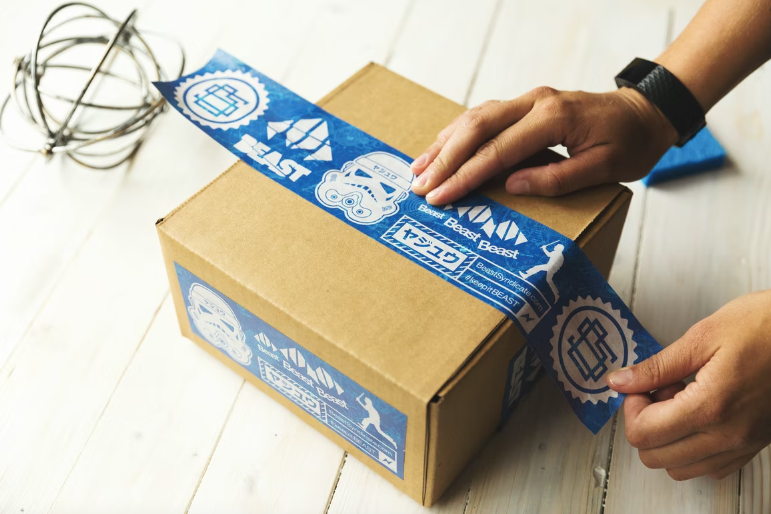 Do you know one of the most important things impacting e-commerce business success? Excellent packaging! 
Good e-commerce packaging can increase sales, gain consumer loyalty and take your business to a good position. Besides, it protects the product inside and helps deliver it successfully to the doorstep. 
However, great packaging has several challenges, like choosing the right size, making it durable, customizing it, etc. 
You may be wondering about e-commerce packaging challenges and how to deal with them.
So let's look into the options for dealing with packaging challenges. 
One of the key goals of packaging is to ensure product safety. You can use custom packing tape for better security. It ensures the parcel remains sealed till it reaches the customer. 
Plus, you can print on the tape whatever you want, like a logo or instructions. 
You can use the popular material cardboard, which is light but can carry a lot.  It's also sturdy and can be recycled.  
A corrugated box is also used for special protection. Many paperboard sheets are used to make a corrugated box. So obviously it's safe to use.
Choosing the Perfect Size
Size always matters. Customers don't like awkward-sized packages. You can't send out a small item in a big box. This sends out the wrong message.   
Customers always want a good experience when they open the box. So selecting the right size for the package is mandatory. 
Having the right size is also beneficial for you. It keeps you from having to fill every shipment with things like tissue paper and packing peanuts. 
For example, if a customer orders a USB drive, you can just pack and deliver it. There's really no need for a big box or lots of plastic to pack it.
 Match the Product to Its Packaging
What does it look like if the packaging has nothing to do with the products inside? It creates a wrong impression! 
Customers expect to get an idea of the product inside by seeing the packaging. It's one of the reasons why you need to learn about the product's ins and outs. 
Plus, it will also help to use the utility in packaging to keep the product safe and sound inside the packaging. Moreover, customers find it exciting to unbox the package. 
Travel-Friendly Packaging
Travel-friendly packaging is a must for any e-commerce product. It should be strong and durable enough to get over all the challenging tracks and safely reach the customer's door. 
There are some elements you can use for better packaging. They are as follows:
Do you send bulky items that can spill? Then you should use packing paper for packaging.
It is excellent and popular for packaging small items like cosmetics, oils, paints, and so on. Because it keeps the items in as good a condition as possible and adds to its appeal. 
In fact, the package becomes all the more appealing because of the packing paper. Without a doubt, it is one of the most important things that you keep in mind while starting a business.
Shredded Paper or Cardboard
It's perfect for packing clothes, stationery, books, textiles, fabrics, and other similar items. It might not give the highest protection, but it will lower the chance of damage.
Polystyrene Packaging Peanuts
They are good for protecting glass and electronic items, especially fragile items. It has become quite popular for various e-commerce product deliveries.
Bubble Wrap or Bubble Bags
Using bubble bags is another great way to pack fragile items. You can safely deliver jewelry, electronics, and other delicate items in it.
Padded dividers, custom cushioning, packaging forms, and other creative ideas are also very effective for e-commerce packaging challenges.
Use Customized Folding Boxes
Folding boxes are durable and safe for the products inside. But it is dull. Customization, like adding a sticker on it, can turn it into something remarkable.  It ensures safety, especially for drop-shipped cases.
Customers love boxes that are made just for them. You can add things to the package that have to do with the product. 
Considering customers' likes or dislikes in a customized package takes the packaging to a personal level. It helps you get the customer's loyalty. They feel special and connected to you.
Plus, you can make your customers happy with a beautiful logo or picture. You can even add a special offer. 
Customized packaging is always fun for the customers. 
Sometimes, unnecessary items come with the product in a big parcel box. This often irritates and frustrates the customers. 
For example, plastic and other protective materials. It is used as an extra safety measure for the product, which is not necessary. 
Finally, it becomes trash, and customers throw it away. It's challenging for retailers or e-commerce businesses to package a product to ensure safety and minimize waste.
Unique and Interesting Packaging
Using some unique materials can make your package better and different from the rest. For example, you can use air pillows to ship fragile products. 
It's far better than using fillers like tissue paper. Air pillows are light in weight and will save you on freight costs. It does also create a good image for your e-commerce organization. 
Using unique items instead of traditional ones always attracts people. It helps you deal with e-commerce packaging challenges.
You need to use eco-friendly packaging if one of the major unique selling points of your brand involves producing in an ecological way. It may be challenging but effective for any e-commerce organization. 
Eco-friendly packaging is sustainable and reliable. You should use 100 percent recycled cardboard or bioplastics to save the environment. Also, some paper packaging is made with wildflower seeds to make the world even greener and help the environment.
You could also use some signs or graphics relating to green nature that support the eco-friendly topic.
Conclusion
If you successfully solve your packaging challenges, then you will get regular customers and high profitability. Look deep into the product and use the packaging process to invent new ways to make effective and easy packaging that will attract customers. 
Unless you have great packaging, you may lose customers. Even worse, your product could get damaged during shipping because of low-quality packaging. 
Hopefully, this article has helped you understand e-commerce packaging challenges and how to deal with them successfully.