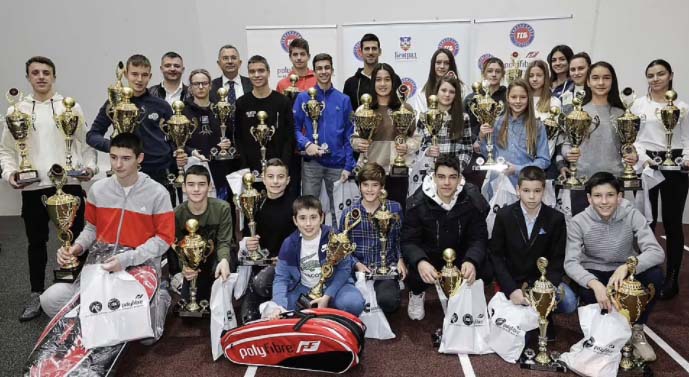 Novak Djokovic was pictured as a panelist at an indoor discussion for his charity foundation, and he shared pictures on Instagram of him receiving a stamp made in his honour the day after he allegedly tested positive for Covid.
In further damning pictures allegedly taken on December 17, the World No. 1 took part in an open PR event and was pictured hugging children at an award ceremony at the Tennis Association of Belgrade's event. It is unclear whether he knew he had Covid when the photographs were taken.
The Serbian's lawyers have since claimed the Australian government gave the tennis star a written vaccine exemption because he contracted the disease on December 16 – the same day he was pictured mixing with dozens of maskless people.
In a further blow to the tennis star's claims, it was also alleged that his positive PCR test result on December 16 would have been too late to register with Tennis Australia's own exemption process deadline – which had already expired on December 10.
According to the governing body's own documents, the last date to apply for medical exemption for the Australian Open had been nearly a week earlier. However, it is not clear when Djokovic received the result of the positive PCR test.
Leaked documents from Tennis Australia said unvaccinated players were able to apply for a temporary medical exemption if they had contracted Covid-19 in the past six months.
The document said unvaccinated players needed to prove they'd had the virus in the time since July 31 in order to enter the country.
But Tennis Australia had been notified by the Federal Government in November that prior infections would not allow the unvaccinated into the country.
Djokovic has been forced to tough it out in the Park Hotel alongside 32 other refugees and asylum seekers, who have previously complained about poor living conditions at the hotel that has been dubbed the 'Alternative Place of Detention'.
Maggot-riddled food, mouldy bread, fires, Covid outbreaks and bugs in rooms are among the complaints made by some of the guests.
Djokovic's demands for a personal chef while in detention have been rejected, as he was told he will receive no special treatment while he remains in immigration custody.
He had also asked to be transferred to a rented apartment with a tennis court so he could train and remain in top shape ahead of the Australian Open with the tournament set to begin in a little over a week on January 17.
Djokovic, 34, even offered to pay for private guards in the hopes he could make the move.
But Australian Border Force rejected all of his requests and insisted he will remain at the hotel until a court rules on his deportation on Monday.
His detainment at the hotel has sparked rallies in Melbourne and Belgrade with the Serbian government claiming the conditions are not 'befitting' to the best sportsman while Djokovic's family have accused the Australian government of treating their son like a 'prisoner'.
The site been used as a government detention hotel since December 2020, with staff and guests previously slamming it as an 'incubator' for Covid.